The founders of Oomi Organics are two moms and sisters who know all too well the long days and nights of a child feeling under the weather, or the turmoil moms feel when they need to increase their milk supply to nourish their newborns. They know mommy-ing is not easy.
Oomi Organics set out to study the principle of herbal energetics, and how some herbs will enhance one another's effects, and others will counter them. Their Synergy-Blend Promise means they only blend organic herbs with complementary properties, creating a synergistic effect with very specific and highly-effective healing actions.
They combine herbalism's science and principles with their ancestors' medicinal tea recipes to create herbal teas that will help moms like you and your children heal more effectively. 100% USDA Organic. No Caffeine. No GMO's. No Sugar. No Chemicals. No Artificial Stuff, Ever. The only thing more perfect than the blend is the intention they put in it, as each product is something they use with their own families!
In celebration of Women's History Month and International Women's Day, we sat down with Oomi Organics' Founding sister duo Dianne and Yael to discuss all things Oomi Organics, Women in Wellness and what it is like to be a female entrepreneur.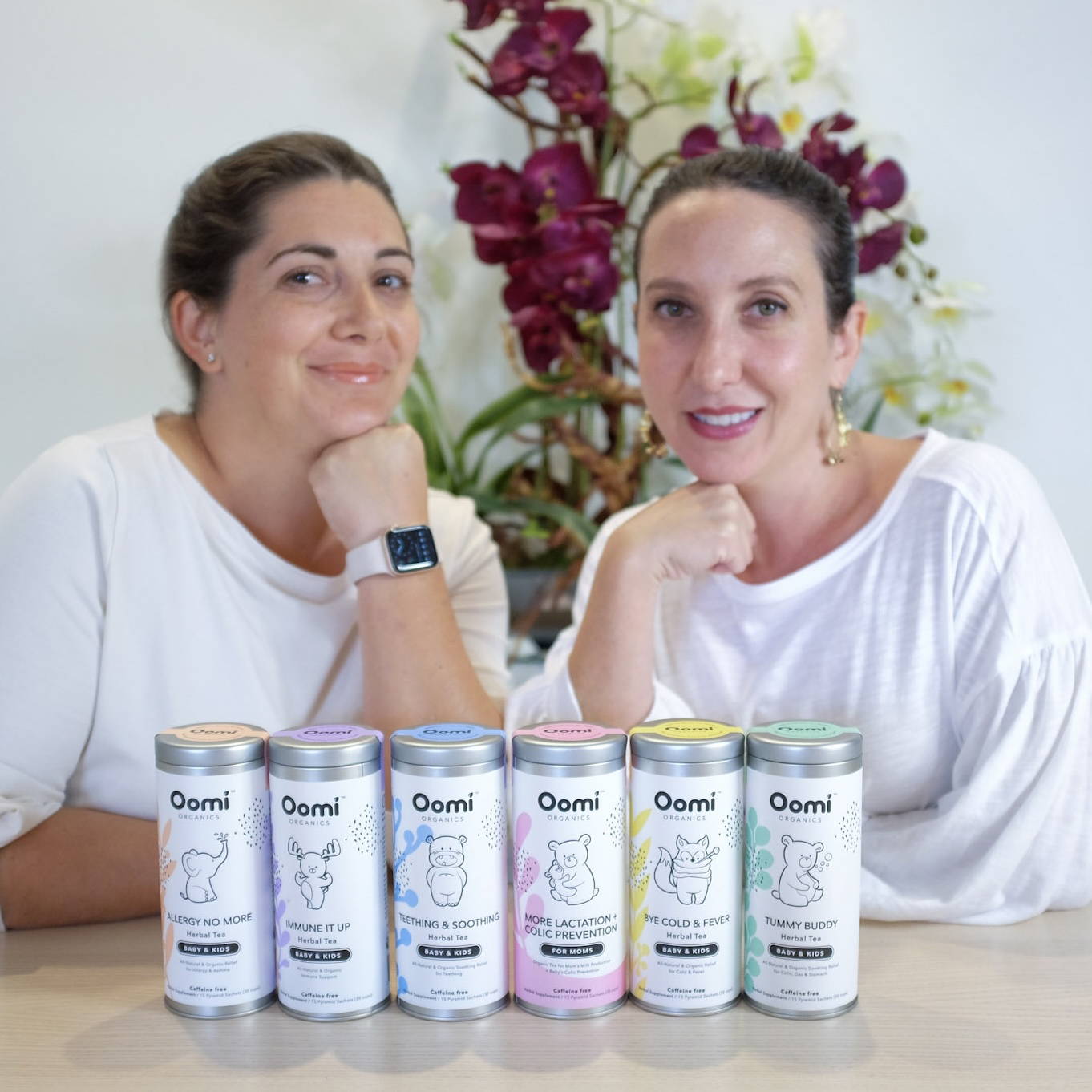 Question: Why did you decide to found this company?
Answer: Dianne's first son, Jack, suffered from reflux as a newborn and wouldn't sleep well at night. Neither would she! Like many new moms, Dianne tried everything to help relieve Jack's reflux, but she couldn't find a solution that truly worked for him (and she preferred not to give him medication at such a young age). So, she set out to find a natural way to help him! She remembered how her parents and grandparents used homemade remedies to help her and her sister, Yael, when they were growing up in Colombia – traditions which came from their European and Colombian heritage. She was inspired to take those home remedies one step further and began her herbalism studies. And after studying and testing various different herbs and blends, she finally found the blend of organic herbs that not only helped Jack's reflux, but did so gently caring for his little baby body.
And after many years of studying, testing and sharing her herbal teas with her family and close friends to help them heal naturally, we decided we wanted to share our herbal teas with more moms, dads and kids around to help them heal naturally.
Q: Who do you look up to and why?
A: We look up to our mom! She is strong, driven, self made and raised us to be the same. Her and two of her other sisters started their own company in Colombia in 1983 and it was a different time back then, especially in Colombia. They had all studied to become teachers and broke through expectations to establish what is, almost 40 years later, one of Colombia's biggest retail bakeries. She did all that and still came home every night, came to our after school sports games, and has always been there for us. Now that we are moms as well, we know this must not have been easy! We look up to her so much!
Q: What do you wish someone would have told you when you first started out?
A: You need to have a strong vision, but be able to adapt. There will be roadblocks along that way that you'll need to use as learnings and pivot your plans. But persevere! You can do this!
Q: How do you stay motivated in a male-dominated space?
A: With a strong support system and always believing in ourselves and our passion.
Q: What is your favorite thing about being a female entrepreneur?
A: The support we have received from other women! It is the best kept secret! Women Supporting Women, Moms Supporting Moms!
Shop Oomi Organics products below: