Encourage Cell Growth with Catskills Comfrey Salves
There are many reputable reports of the benefits of comfrey for skin care. Comfrey's active ingredient, allantoin, is one of the most important cell-proliferants. Essentially, comfrey encourages cell growth, helping the body do what it naturally wants to do but only with more vigor and rapidity. Comfrey is an anti-inflammatory with additional moisturizing benefits. The associated benefits of arnica, calendula, medicinal hemp and chili pepper are extensively documented.

Catskills Comfrey is a true artisanal product. We raise, transplant and grow all the comfrey used in our products. We harvest it. We trim it. We dry it. We crush it. We store it. We infuse it. We pour it. We label it. We shrink wrap it. Essentially, we do everything associated with the production of Catskills Comfrey ointments. There are no fancy machines involved to facilitate the process.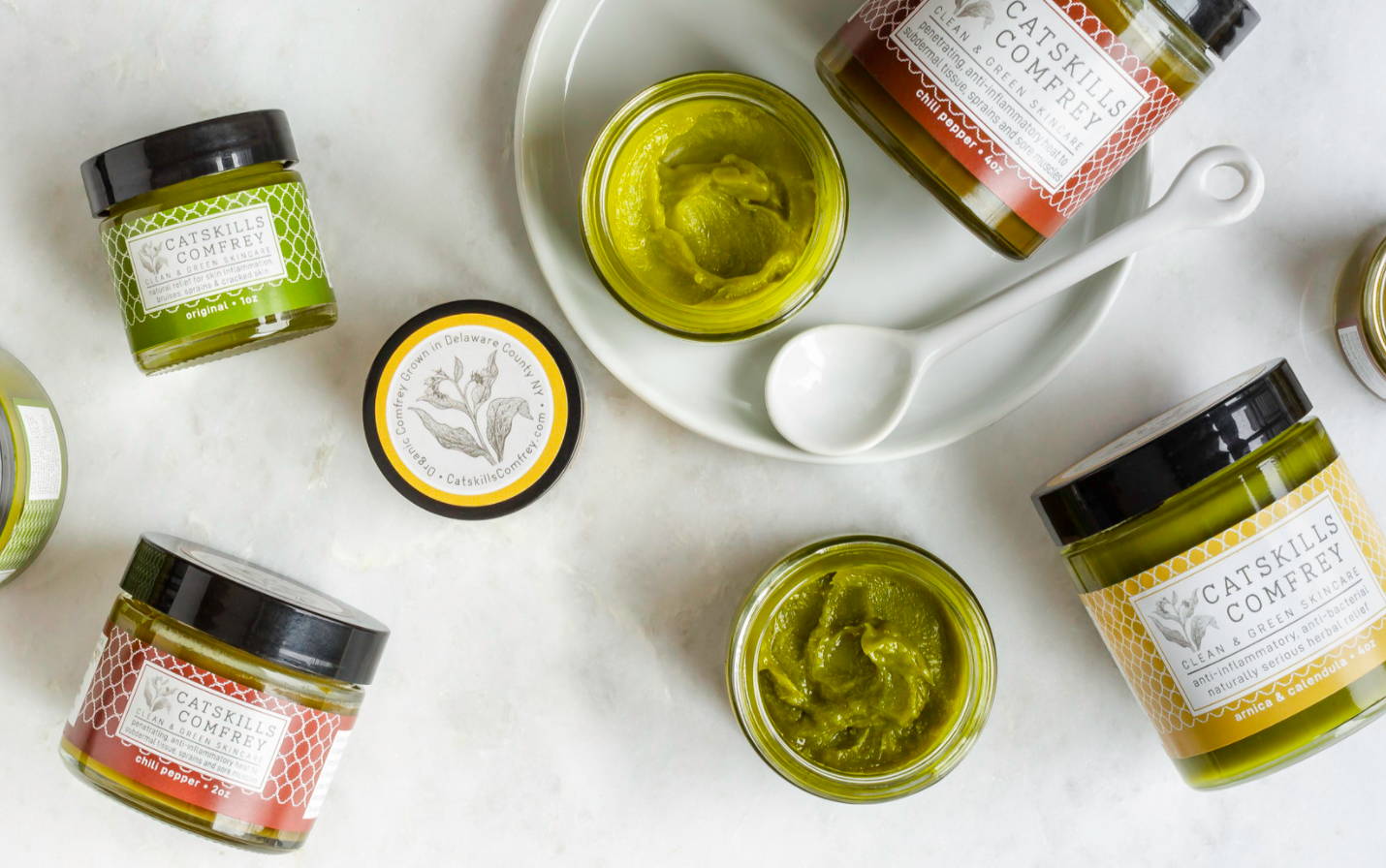 "Encourage cell growth with 100% organic salves from Catskills Comfrey Clean & Green Skincare."
Catskills Comfrey, clean and green skincare, is handcrafted in small batches to create high-quality, rich-potency, comfrey based ointments. Catskills Comfrey ointments are topical applications consisting of fractionated/MCT coconut and Greek olive oils, infused/dried comfrey and beeswax, with additional herbs added to enhance your skin health. No artificial ingredients, colors or scents are used. Comfrey's natural allantoin promotes new cell growth, supporting your own body's inclination to heal itself. When your body needs new cells, comfrey's allantoin accelerates the body's own inclination to heal itself.
All Catskills salves are comfrey-based, ie, they each contain the exact, same high-concentration of infused comfrey. Other herbs they utilize include arnica, calendula, hemp and chili pepper. They grow all of our herbs except for the Carolina Reaper chili pepper, the world's hottest pepper.
What's the difference between Catskills Comfrey Salves?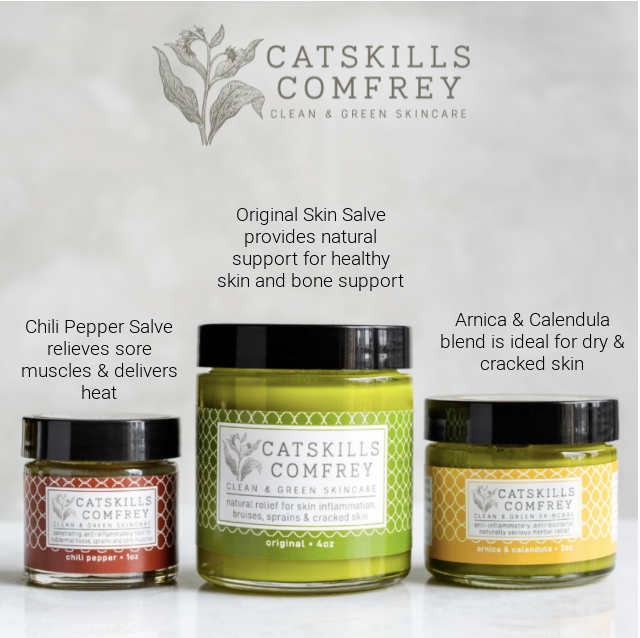 Catskills Comfrey Chili Pepper Salve

Provides the same great benefits as the Original Salve with the added potency of Carolina Reaper chili peppers – the world's hottest. Offers warmth to the surface of your skin, as well as subdermal, making it ideal for sore muscles and deep tissue massage.